Getting Started
The days of doing things "the traditional way" are long gone. Technology is taking over in areas where you wouldn't expect and this is in no way a bad thing. We have a lot of things that used to require a lot of effort on our end, that we now rely on technology to do for us.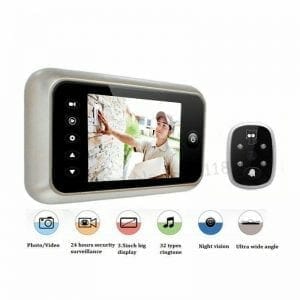 What if you have someone ringing your doorbell, but for some reason, you don't want to go all the way to the door and see who's there? A regular peephole would require you to be present. But a peephole camera is a simple, yet extremely helpful alternative to a peephole.
All you have to do is check the display, or your smartphone from anywhere in the house and your set. We at Gadgets Spy have put together nearly 40 hours of research and writing and development to test and present to you our top picks of this year.
Top 11 Best Peephole Cameras This Year
By now, you already know you need a peephole mini camera. You also know why you need it, and what are some important questions to answer before you decide. But, as we said, there are a lot of options out there, and every bit of information helps. Let's take a look at 11 of our top choices, and see why they're excellent if you need a peephole camera for your apartment or house.
Resolution: 720p HD
Field of View: 155 degree
Motion Detection
Night Vision
The Topvico doorbell camera's simple app gives you the ability to get remote viewing  from anywhere at a high degree of quality and packed with features.
Let's talk about the primary feature of any peephole camera, which is the camera. The Topvico peephole camera comes with a 720p HD camera. It excels with a wide-angle view of 155 degrees.
Where this camera makes up for its 720p resolution is the device's display. The 4.3" inch high resolution display provides you with a clear picture of what's going on outside. Equipped with night vision, you won't have trouble seeing objects at night.
It doesn't stop there. This device is also Wi-Fi enabled, which makes it very easy to get access to your front door at all times. Find the best Wi-Fi Peephole Cameras in this buyers guide.
Considering all of the features this camera comes with, its certainly an eye catcher and we highly recommend it, especially at this price.
Field of View: 120 degree
Night Vision
Display size: 3.5 inch
The SS is a great peephole camera recorder, which requires a very simple installation and works fluidly, although it does not include smartphone integration.
In the peephole camera, you will find four IR LEDEs, which turn on automatically when the lighting conditions aren't that good. This means that even during the night, you'll still have a good view of what's happening outside your door. The sensor is a high definition color sensor with a 120 degree lens, giving you a pretty wide field of view.
The 3.5" display is where you'll see what's happening outside, and the image is very clear, making it easy to distinguish faces and people. Whenever a visitor presses the doorbell button, an image is saved to a micro SD card, and you can also record videos on that same card. As far as power goes, the Digitsea runs on four AA batteries, which should be enough for around 1500 peeps. When you take everything into consideration, if you need the basics of a peephole camera, and don't really need things such as motion detection, the peephole camera is something you should absolutely check out. 
Field of View: 120 degree
LCD Display
Display size: 3.5 inch
We have the 3.5 inch LCD 120 Degree Color Peephole Camera. It mounts where your regular peephole is, and connects inside with a 3.5" TFT display which shows a really clear image of who's outside.
The 120 degree field of view is pretty wide, and you'll get a lot of detail from the 2MP sensor in the camera. It runs on AAA batteries, which are easy to find and install, and you won't need to replace them very often, as they do last a good while. If you want something that's affordable and simple, this is one of the better options on this list that you absolutely should consider.
Resolution: 1080p HD
Field of View: 160 degree
Motion Detection
If you aren't afraid to spend a few extra bucks for a premium wifi smartphone enabled peephole camera recorder, Ring's Video Doorbell Pro is one of the best ways to do so. You get plenty of control over what the camera is actually watching, and there's a lot of customization options.
The Ring Pro uses direct power, which is excellent if you aren't a fan of changing batteries. However, it requires a bit more power than a regular doorbell, so you might need a transformer. And, if you're replacing a regular doorbell, you'll also need to install the Pro Power Kit which comes included. Once you're done with that, it's all easy from then on. The Ring Pro records in 1080p, something only premium peephole cameras do at this point. There's a wide, 160-degree field of view, and even though its black and white, the night vision is pretty impressive as well.
The Live View from the app will let you listen to audio from the microphone, and there's also the option to talk to whoever is at the door, through the speaker. Sure, it's a small speaker, but it's a peephole camera we're talking about, so there's no need for anything big. One interesting feature that you won't get with many other cameras is the Motion Zones. In the app, you can physically choose which parts of the view you want the motion sensors to be activated. If you have, for example, a tree with moving branches at the front of your house, just exclude it, and you won't get any notifications for it.
As far as smart features go, you have integration with Alexa, Google Home, as well as IFTTT, which is always handy. There's an interesting feature within Ring's app, which lets you share any potentially concerning videos with Ring users nearby. There's no name or address to identify you, but you can leave comments on your neighbors' videos if you want to ask for more information on one of their videos. All things considered, if you're after a budget WiFi peephole camera that doesn't cut any corners, the Ring Video Doorbell Pro is the way to go. Installation might be a bit tricky, but once you have that done, it's pretty much set.
Resolution: 1280x720P HD
Field of View: 166 degree
Battery: 3400mAh
Waterproof
Looking for something that packs a feature rich punch? The SS Smart HD comes with a plethora of features including a smartphone enabled system so you can see who is at your door no matter where you are. Including motion detection, night vision, HD enabled, auto wakeup for power consumption and the list goes on.
Sometimes your just looking for the best product out there. The SS is no slouch. Firstly its important to keep in mind unlike older versions of peephole camers this does not have a display so there is no fiddling with parts and two way door installs, what you see is what you get in a waterproof heavyduty shell.
Where this doorbell camera really stands out is its Android and IOS app integration, it allows quick access via the app and automatically wakes up within 3 seconds of a trigger. The Camera shows a 720p image and supports night vision as well as a wide angle of 166 degrees to make sure you get a great view of whos outside.
The device also supports 2 way audio with noise cancellation and supports video and audio recording to make sure you can record anything that happens of interest.
It doesent stop there. The camera goes on to give you motion detection features to auto turn on and record when someone passes by and give you cloud storage abilities in case you go over its 32gb TF cards limit.
The installation for this camera we found was incredibly easy with just wifi connection. We were incredibly happy when testing this model and highly recommend it.
Display: 2.8″ LCD
Field of View: 165 degree
Night Vision
Another one in the budget-oriented options, the Greeter by Eques takes on a somewhat different design. And if you ask us, it does look a bit more professional. You get a very simple, somewhat barebones system which consists of the camera and the display. However, the advantage of it is that it's incredibly simple to install, taking no more than five minutes of your time.
The camera has a 165 degree field of view, a touch higher than the competition above, and you can record both photos and videos. What's impressive is that you don't need a smartphone for this, there's built in memory. But if those 2GB of memory aren't enough, you could always put in a micro SD card and expand it. The display is where you can control just about anything, and you won't need any apps or difficult setup for it. And yes, it does work at night as well, thanks to the night vision mode on the camera. Battery life isn't an issue, as the built-in battery lasts for a good while.
If it does run out of juice, you can easily plug it into a wall outlet, and it'll charge itself. This is oftentimes more convenient than having AA batteries. However, if you don't have an outlet near the door, you'll have to use a power bank, or a long cable, because the battery can't be removed from the unit. The Eques Greeter is an interesting peephole camera, which manages to squeeze in an elegant design, the basic functionality (which works very well), and a few nifty extras into a price that's within anybody's price range. 
Display: 2.8″ LCD
Field of View: 165 degree
Night Vision
Going back to the premium options out there, we have the Brinno peephole camera. There are a few models, but we'll be discussing the SCH1000, which is their best. Unlike with the budget options, the Brinno lives behind your peephole, on the inside of the door.
It gets activated either by motion, or when someone knocks on the door. Visitors are actually recorded without them actually knowing it, and the video and photos are stored on a micro SD card. The camera supports up to a 32GB card, which should be plenty.
If you want to review the footage afterwards, there's a 2.7" LCD screen, or you could just remove the SD card and look at the footage on a computer. Reviewing the footage, or seeing who was at the door is very easy with the screen, and the menu is incredibly easy and fast to use. Oh, and you also have a time and date stamp on all images and videos, which might come in handy. One set of AA batteries should last you for around 1,800 triggers.
Installation is very quick and easy, all you have to do is remove your existing peephole, and put the Brinno one. No complicated wiring and tools! At the end of the day, if you do want a high end wireless peephole camera with advanced functionality, but you don't want to get the Ring, this is basically your second best bet. Click this link to see the best wireless peephole cameras available today.
Display: 2.4 inch HD
Field of View: 160 degree
Wireless
The Acehome is one of the simplest solutions when you want to make your peephole smart, but not complicated. If you're skeptical about the complex wiring and operation of high end peephole cameras, you can't go wrong with this one. It doesn't have advanced things such as video recording, nor does it have motion detection. However, for people who don't need those things, and want something very simple, it more than does the job.
You can install it where your regular peephole is, and there's a 2.4" display that you put on the inside – this is what you'll use to see who's outside. Operation is very easy, just click once, and the display turns on to show you who's outside. Click once again, and you'll take a photo.
This can be helpful if you want to teach your kids not to open the door to strangers, but you want them to take a picture of the visitor. The 160 degree wide angle lens is sure to capture the outside environment, and the HD sensor gives you enough of a quality to distinguish facial features, even in sub-optimal light conditions. If you want something that is dead simple and doesn't have any advanced things that might confuse you, the Acehome might be the peephole camera you're looking for.
Resolution: 720p
Field of View: 180 degree
Night Vision
Display: 5″ LCD Touchscreen
We already spoke about one of Eques' solutions, but now we have something that's much more high end. The VEIU is a highly advanced camera which is WiFi enabled, has things such as motion detection, and lets you connect to it from just about anywhere. Just set it up, connect it to your home's WiFi, and you can access it at any time.
There is a two-way mic in the app, on the LCD monitor, and at the camera, so you can talk to whoever is at the door without even moving from where you are. The camera has a 180 degree wide angle lens, and it records at a resolution of 720p, which is more than sufficient for such situations. There's also night vision recording, and you can hold videos either in the 2GB of memory that's included, or expand that up to 32GB if you think it won't cut it for you.
At this price point, the VEIU faces some really strong competition. The Ring Video Doorbell Pro is one such competitor, and with their prices being more or less equal, choosing between them is a matter of preference.
Resolution: 1080p HD
Field of View: 122 degree
Night Vision
Motion Detection
Somewhere in the middle, between the budget options and the high-end models, price wise, is SkyBell's HD video doorbell. Named the best video doorbell by CNET, the SkyBell has quite a reputation.
With 1080p video, as well as motion detection, live alerts and night vision that isn't black and white, you can rest assured that you'll be able to see who's at your door, at any time. As soon as there's motion, or you press the button, videos are recorded and uploaded to your free cloud account, which is quite handy.
Who is this for? If you want the advanced functionality of the Ring and the VEIU by Eques, but don't want to spend too much, it just might be ideal.
Why do you need a peephole camera?
Sure, you might be thinking "I don't really need this", or "A regular peephole works just fine". I do understand that you might think that a door peephole camera is a solution to a problem that doesn't exist. But having a front door peephole camera can be more helpful than you might think. Let's take a look at a few situations where you'll appreciate having one.  

You can choose who to open the door for.
How many times have you had a door-to-door salesman try to sell you something you don't want or need? How many of those times would you have used your time better? When you look out through a regular peephole, the person on the other side of the door can see it go dark, and knows you're behind the door. 
Well, that is provided they didn't hear you coming in the first place. If it's someone you don't want to open the door to, you're creating somewhat of an awkward situation. For a salesman, that might not matter. But if it's a family member you just don't want to talk to, that can lead to a bit of tension next time you're having a family reunion. With a peephole camera WiFi functionality, you don't even have to go to the door – just check your smartphone.

You have a much better view compared to a regular peephole.
A peephole will usually give you around half an inch of viewing space, and objects on the outside will be much smaller as well. The angle might be off, or you might need to lean up to see through. Maybe you don't have the best vision, or maybe you need to wear glasses which interfere with tasks like this.
Maybe you can't really see well if you're only using one eye. A door peephole camera can give you a much better view. There's a decently sized display on it, and if you have a door peephole camera WiFi functionality, you can even use your smartphone. That gives you an even bigger display. And even that fish eye effect is accounted for, as a peephole camera will give you a flat view. Now you can easily see if it's your aunt, or that guy selling carpet cleaning solutions again.

You don't have to adjust to the height.
A regular peephole is placed at the eye level. But whose eye level? If you aren't an average-height adult, you might have issues. Regardless of whether you're a bit shorter, or taller, you'll need to either stand on your toes, or lean over to see through it. And then there's the situation where your kids need to look out every once in a while – you don't want them opening the door to strangers, do you?
Everything, from the worst, to the best peephole camera will easily solve this issue. If you have a wireless peephole camera, just look at your phone – that doesn't require you to be a specific height.

It adds a touch of safety and privacy.
And we're sure you've seen the movies where someone gets shot through the peephole – but that's unlikely to happen. Still, there's always the possibility that the person standing on the other side of the door doesn't quite have the best intentions. If you live alone, or if you live in an area where crime is an issue, a front door peephole camera can add a bit of safety and privacy.
What to keep an eye out for when buying a peephole camera?
The problem with peephole cameras, as with most tech items nowadays, is that there's too much choice. There are just too many peephole camera wireless systems out there. On one hand, this is excellent. Regardless of your requirements, you'll easily find something that suits you. However, for the average consumer, who may not really know what they need, this can easily get confusing.
Do you get an expensive camera? Do you get a 720p one, or is 360p enough? Can your door even accommodate a peephole camera? All of these things are things you must know before you order a camera. Well, we're here to help. First of all, there are a few factors that are important when we're talking about a peephole camera, regardless of whether it's motion activated, hidden, WiFi, etc. We'll talk about those, and we'll try to explain which ones matter, and why. Then, we'll give you a couple of options. Those options are handpicked to be some of the best peephole camera solutions on the market nowadays.
 Check our picks for the best motion activated peephole cameras here.
There are ten options, to be exact, so regardless of what exactly you need, chances are you'll have a choice of at least two or three on that list. Without wasting any more of your time, let's take a look at the dos and don'ts of peephole cameras, and see our picks.

How much of a budget should you set aside?
 This is one of the most important questions, and not just for peephole cameras. Fortunately, as these are pretty compact devices, they tend not to be expensive. Some really high end options might get near the $300 range, but chances are you don't need something that expensive. There are quite a few cameras that are way below that price range, yet do an incredible job. It all depends on your expectations.

What kind of resolution and frame rate should I expect?
As we said, they're pretty compact, so only the high end models will come with 1080p HD video. However, do you really need 1080p? You should think about what kind of conditions you have outside your front door. Is it dark, or is there a light above the door? If you have a light above the door, even something like a 360p camera might do the job. If it's darker though, every pixel helps, so you want to get at least a 720p camera.
This is your home's security we're talking about, so getting a camera that's capable of higher quality video is important. As far as frames per second go, you should be set with somewhere around 24 to 30 fps. Anything more than that is overkill, and anything less than 15 frames per second will result in an image that isn't that sharp and clear. This will cause more problems than it solves, so try to get something that's at least 24 fps. You can also take a look at some resolution charts here.

How do you install one? Is it difficult?
It is absolutely not. Sure, there are professionals that might do that for you, but you won't really need it. Many of the peephole cameras you can buy are set up in place of your doorbell, so you won't need to damage your door in order to install one. In this link, you can find an article on how to install a door peephole camera.
There are others, however, that might require you to drill a hole in your door in order to install the camera. Regardless of what the mounting mechanism is, chances are you'll get a step-by-step instructions guide in the box, so you can do it yourself. On the other hand you can see our peephole camera instructions.

Where does the recorded video go?
There are a few options here. With many higher end models, you'll have the peephole camera WiFi enabled, and connected to your home internet network. What this does is it lets you connect to the camera regardless of where you are, and whether you're even at home.
Other common solutions include a display that comes with the camera, and mounts on the inside of the door, as well as an SD card. A display will let you see in real time who's outside with your cameras range of view, and an SD card will record, whether it's continuously, or with motion activated recording, so you can see what's happening, even after it has happened.

Do you want motion detection?
If you can afford a camera that has it, yes, you absolutely do. Motion detection comes with quite a lot of perks. For example, many motion activated peephole cameras will send a notification to your phone every time they see someone or something moving outside your door. Others will start recording once they notice something, which is also useful if you aren't at home, or if for example you're having your mail packages stolen.

What about batteries?
Batteries are something you actually won't find in all peephole camera systems. Many do have them, but others actually opt for something like a wired connection. You can avoid batteries all together by running a coax cable.  A detailed coax cable guide for peephole cameras.
You never have to charge it, or worry about changing batteries, and it's pretty much always on and always working. It will not fail you in a key moment. However, if you're down with changing batteries every once in a while, that might not be a dealbreaker for you. It's completely up to you.
Wrapping things up
As we said earlier, choosing a peephole camera for your home can be a tricky ordeal. From the vast majority of choices, to the varying price ranges, finding the one for you is a bit harder than you'd expect.
However, that's where we come in, and we hope to have helped with both the list, and the buyer's guide above. If you made it this far, you should already know why you need one, what to look out for in one, and which one to get, so all that's left is to order, install, and enjoy the added security and privacy. You will no longer have salesmen trying to sell you what you don't need. Looking for a list of the top spy cameras? See our article here.
Our Pick
The SS is a great peephole camera recorder, which requires a very simple installation and works fluidly, although it does not include smartphone integration.